June 16, 2014, Northvale, NJ – Inrad Optics, Inc. (OTCBB-INRD) was honored with two prestigious awards for research and development performed under contract for the Department of Homeland Security's Domestic Nuclear Detection Office(DNDO).
On June 10, Inrad Optics was recognized by DNDO for exceptional contributions to advanced materials development for neutron detection of radiological and nuclear material. The award was accepted on behalf of Inrad Optics by senior scientist Dr. Candace Lynch at a ceremony held during the 2014 Symposium on Radiation Measurements and Applications (SORMA) in Ann Arbor, MI.
On June 16, Inrad Optics was one of 25 companies to receive the Tibbetts Award from the U.S. Small Business Association (SBA) for playing a critical role in research and development for the government and for their success in driving innovation and creating new jobs. This award honors outstanding small businesses and individuals who participate in the SBA's Small Business Innovation Research (SBIR) and Small Business Technology Transfer (STTR) programs. Dr. Lynch and Inrad Optics CEO/President Amy Eskilson accepted the award at a White House ceremony.
"It is the innovative entrepreneurs and high growth small businesses like our award recipients and Hall of Fame inductees who help power our economy and move it forward by creating new jobs and making our industries globally competitive," said Maria Contreras-Sweet, SBA Administrator. "Their accomplishments remind us all of how integral the success of high growth small businesses are to making our country more globally competitive."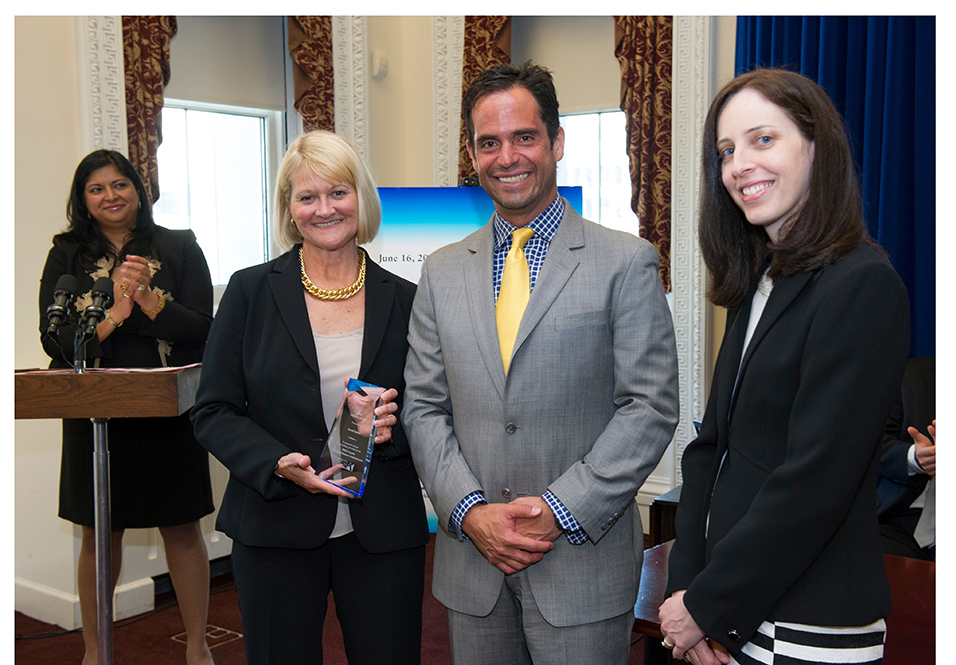 Pravina Raghavan (SBA Director of Innovation), Amy Eskilson (Inrad Optics CEO/President), Javier Saade (SBA Associate Administrator), Dr. Candace Lynch (Inrad Optics Senior Scientist).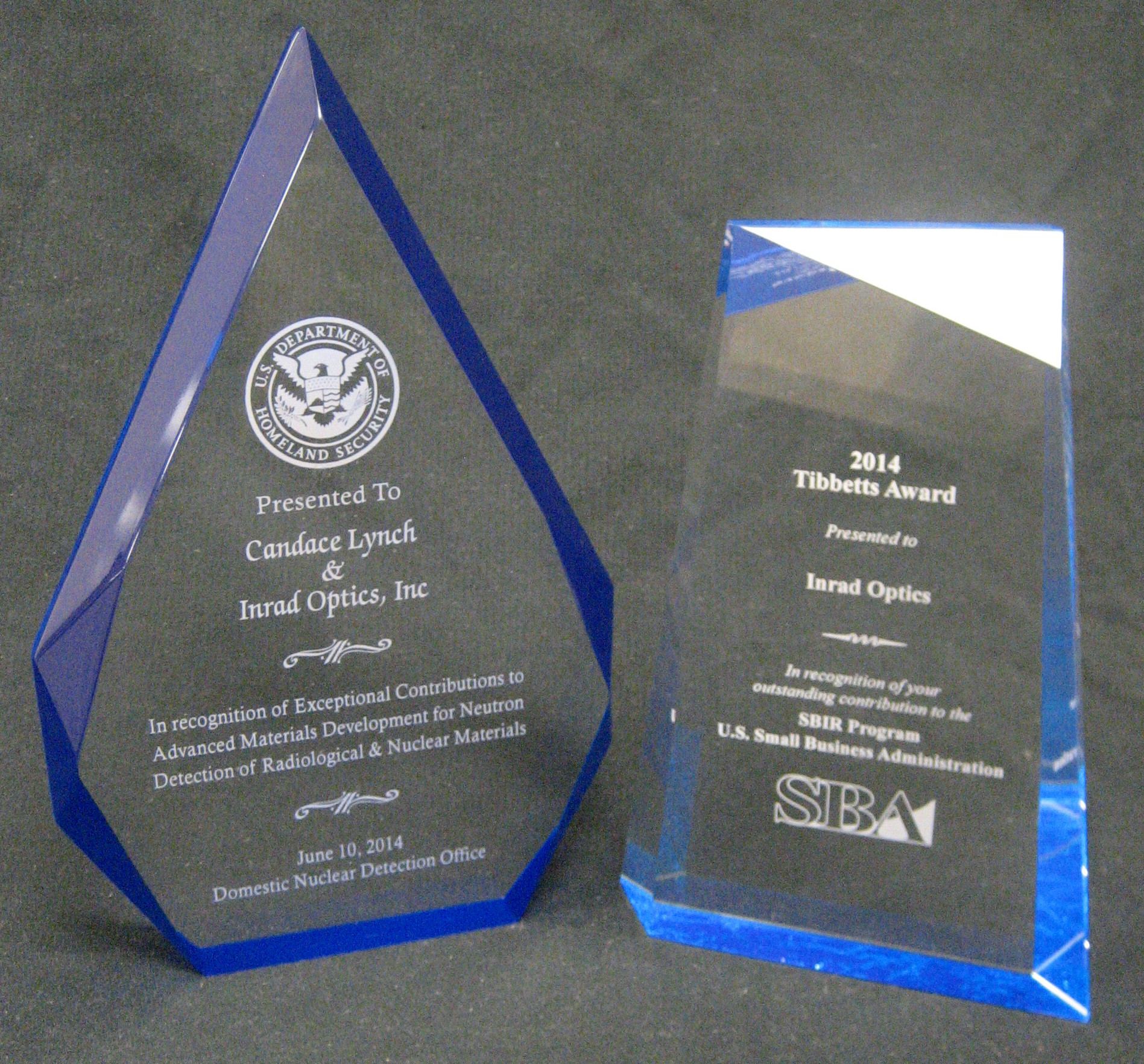 Photography credit: Risdon Photography.
Ms. Eskilson commented, "We are honored to receive these awards and to contribute to technologies which will help keep Americans safe from nuclear threats. The successful transition of stilbene to commercial production is a testament to the talented team of scientists, engineers, and technicians at our Northvale, NJ facility."
In 2012, Inrad Optics received approximately $1M in Phase II SBIR funding from DNDO to develop a commercial supply of the crystalline material stilbene, which produces a measurable optical signal in the presence of neutron radiation. Neutrons are a tell-tale signature of certain nuclear materials of interest for homeland security applications; neutron detection also has applications in physics research and at nuclear facilities. The Phase II contract is part of a collaborative effort with Lawrence Livermore National Laboratory, where pioneering work on stilbene crystal growth was conducted. Inrad Optics leveraged its long and successful history producing crystals for optical applications to develop a commercially-viable process for stilbene production. Inrad Optics began shipping stilbene crystals to customers at the end of 2013, in advance of the completion of the 2-year SBIR contract, demonstrating an exceptionally rapid commercialization of a new material technology.
The Tibbetts Awards, named after Roland Tibbetts, who was instrumental in developing the SBIR program, are presented to companies and individuals from all over the United States who are beacons of promise and models of excellence in high technology. Tibbetts award winners are selected based on the economic impact of their technological innovation, and on whether they have met federal research and development needs, encouraged diverse participation in technological innovation, and increased the commercialization of federal research.
---
About Inrad Optics
Inrad Optics Inc. has long been known as one of the photonic industry's seminal crystalline products companies. In operation since 1973, we built a reputation on our ability to grow and fabricate crystalline materials of exceptional quality. Today, we are a vertically-integrated photonics manufacturer offering crystal-based optical components and devices, custom optical components from both glass and metal, and precision optical and opto-mechanical assemblies. Our components and value-added photonic devices can be found in technologies developed for defense, aerospace, laser, medical, process control, and metrology applications. All of our engineering and manufacturing operations take place in the United States. From our 42,000 sq. ft. facility in Northvale, NJ, we serve a global customer base of technology firms, research universities, and governments.