There are times when off-the-shelf products cannot meet the challenge, and that's where Inrad Optics' team of engineers can help. When it comes to technically demanding applications, Inrad Optics' expertise in materials, fabrication, and metrology gives your custom design an edge in performance and quality. Our team includes physicists, mechanical and optical engineers, and fabrication technicians all ready to put their experience to the test. With your imagination and our optics knowledge, you'll be able to get exactly what you need— maximum performance in a customized footprint.
What Inrad Optics Can Offer
Inrad Optics fabricates custom optics from an assortment of materials. Planar, prismatic and spherical components are fabricated from glass, crystal, metal, and semiconductor materials, and coated for specific wavelengths across a broad spectrum. Our technicians hold figure tolerances of 1/20th wave or better, angular tolerances of < 1 arc second and surface quality of 10/5 or better, depending on substrate properties.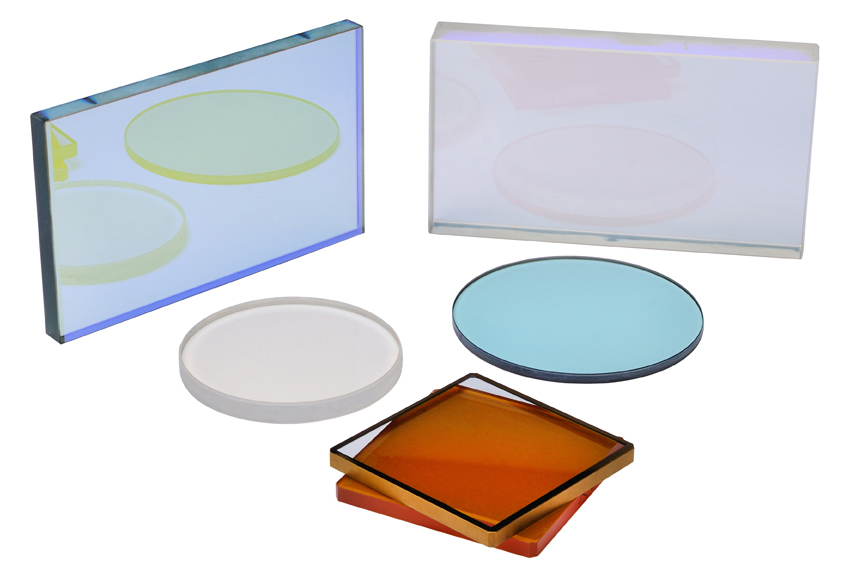 Windows
We fabricate a variety of EO/IR windows and EMI-shielded window assemblies, interferometer reference and transmission flats, wedges, reticles, etalons and filters, all to high quality standards. All flats are fabricated, polished, coated and tested in-house, ensuring traceability and satisfaction with every product.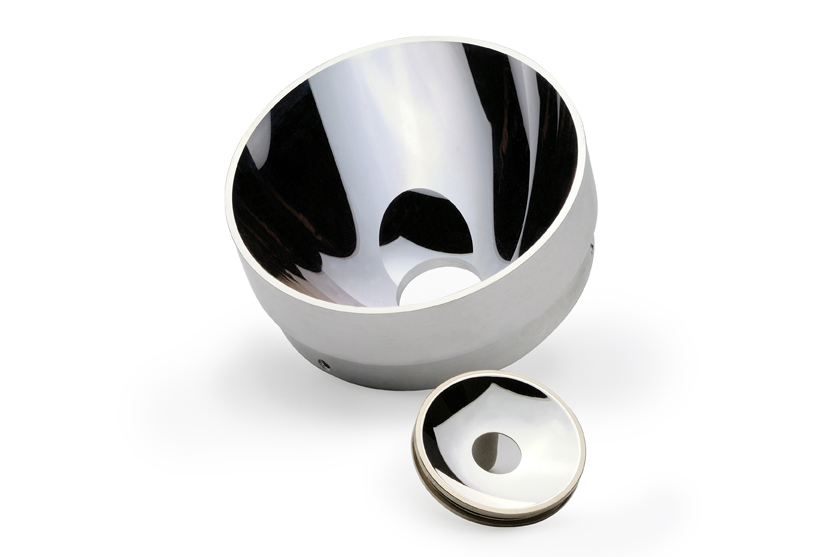 Mirrors
In addition to designing traditional glass mirrors, Inrad Optics employs proprietary single-point diamond machining and optical polishing methods to produce precision metal mirrors used in space telescopes and scanning systems. We work in an array of materials including aluminum and beryllium to produce spherical and aspherical off-axis components ready for opto-mechanical assembly.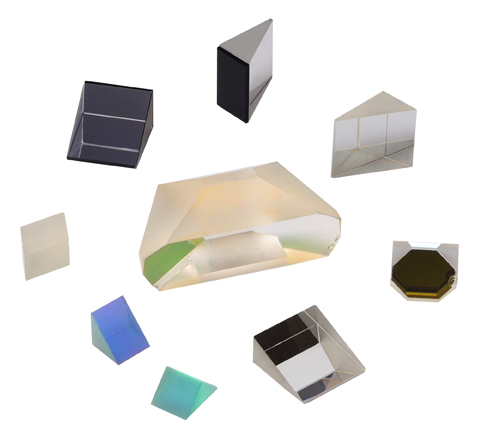 Prisms
We offer custom dispersive, reflective and birefringent prisms in a variety of classical geometries including Porro, Penta, Wollaston, Rochon, Nomarski, Glan-Thompson and Glan-Taylor. In addition to monolithic prisms and contacted or cemented prism assemblies, Inrad Optics has experience in building high precision Risley prism steering assemblies.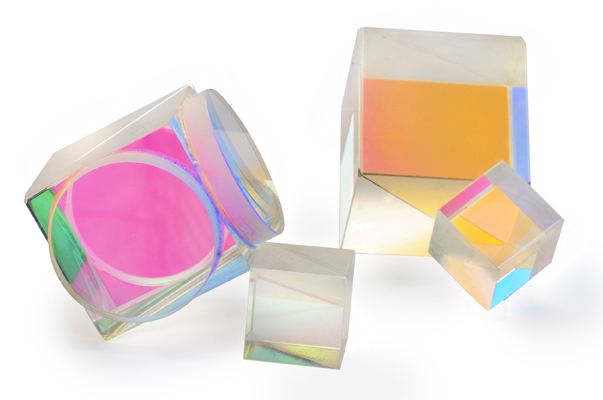 Beamsplitters
Inrad Optics offers polarizing and non-polarizing plate beamsplitters as well as multi-element beamsplitter assemblies, all fabricated,finished, and tested in-house. We offer optically contacted assemblies, cemented assemblies, verification of beam deviation, custom shapes and sizes, with hyperspectral coatings.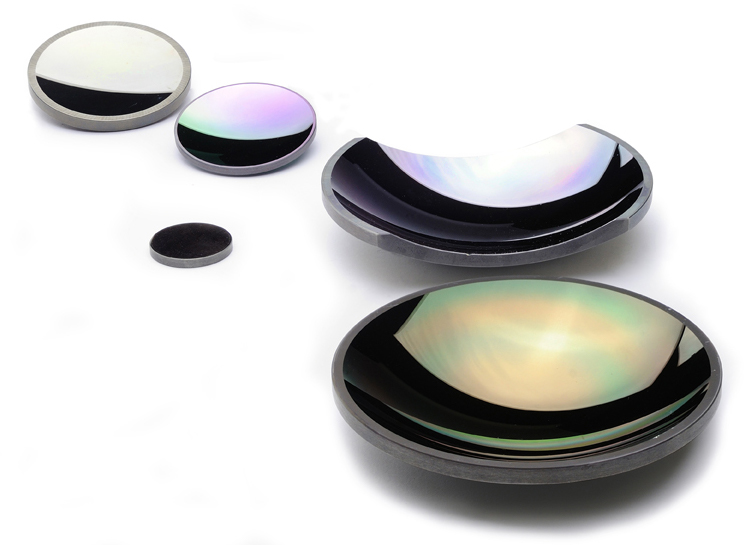 Lenses
Our engineers produce custom lenses that fit demanding specifications, using CNC grinding and polishing as well as traditional spindle polishing. All lenses are fabricated, polished and coated in our own facilities, ensuring complete traceability and quality.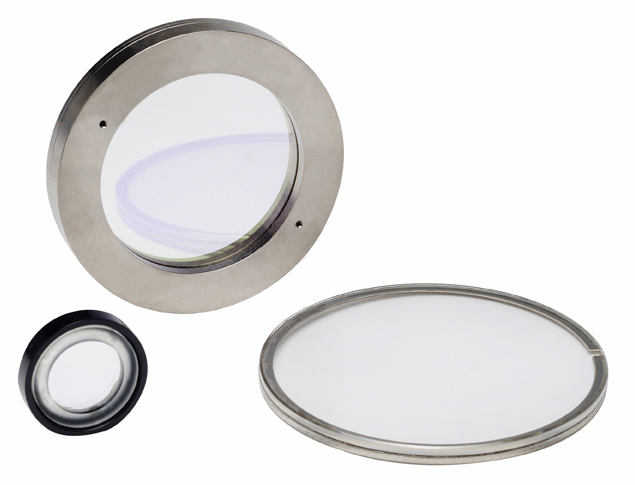 Waveplates
Inrad Optics manufactures custom waveplates in a variety of materials and configurations, including ultra-thin zero-order waveplates contacted to BK7 or UVFS carrier plates, and air spaced, contacted and cemented assemblies.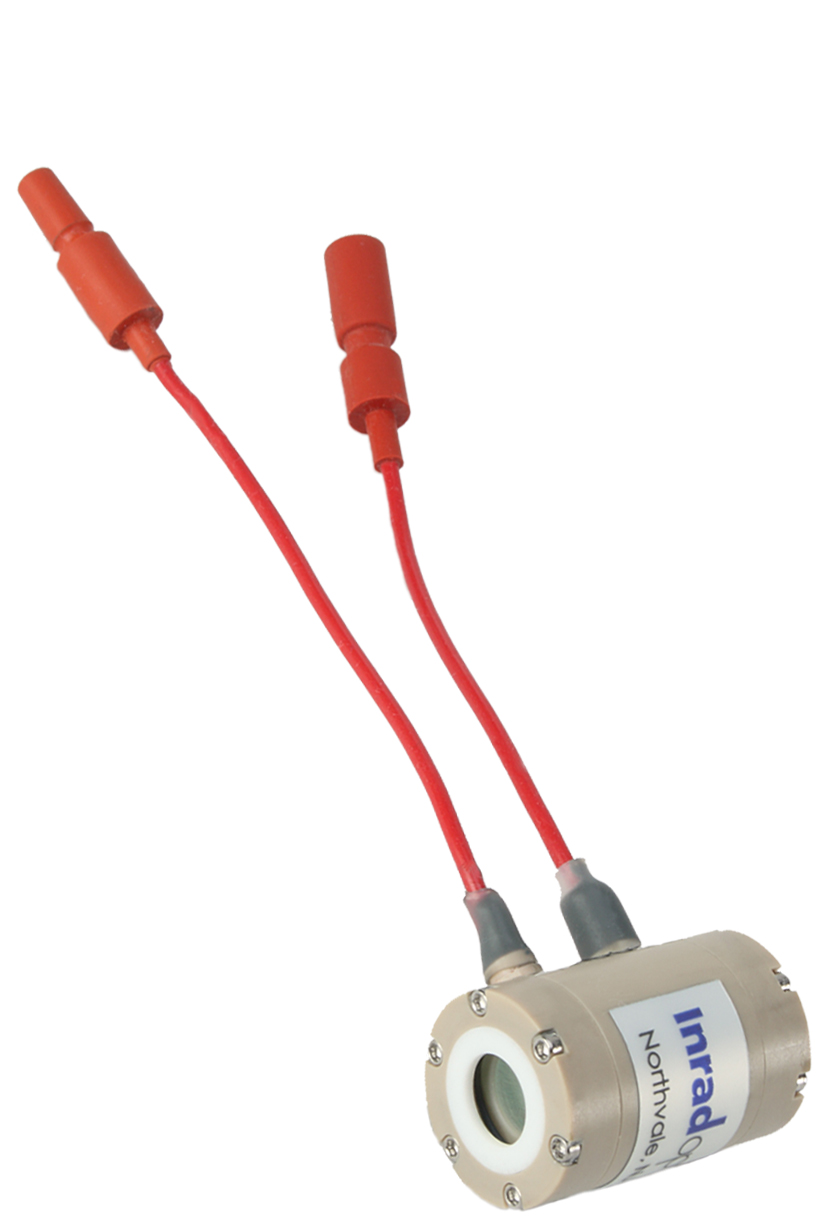 Optical Assembly
In order to deliver the performance desired, nearly all metal and crystal optics require installation into a higher level assembly. At Inrad Optics, we specialize in opto-mechanic and electro-optical assemblies and subsystems to achieve the tightest alignment, dimensional tolerance and performance specifications.
There are three main types of assembly work carried out at Inrad Optics: contacting, cementing and mechanical mounting. Inrad Optics uses optical contacting as an essential step in the manufacture of many types of prism assemblies and components such as zero-order waveplates. Cementing is used for a variety of glasses and crystals not suited to optical contacting. Inrad Optics is a systems manufacturer as well as an OEM optics supplier. Mounting optical elements into mechanical housings is a function we perform routinely.
Our in-house optical assembly capabilities and expertise include:
Design for manufacturing and assembly
Optical interface optimization
3D modeling with SOLIDWORKS®
Fixture design and development
Electronics integration
CNC machining of mating components
Optical bonding and contacting
Laser alignment capabilities
Testing
Is it time to test your custom component? Let Inrad Optics take care of that. We test our custom optics in the same place you use them —the real world.
Our third party certifications and testing capabilities include the following:
DOD and ASTM specifications
MIL-PRF-13830B and ISO 10110
Environmental stress and screening
Mechanical shock and vibration
Thermal testing and humidity verification
Abrasion and durability testing
Laser damage certification
These methods adhere to such industry standards as Mil-C 13830, and we have the added advantage of knowing that every test grants more knowledge, no matter the result.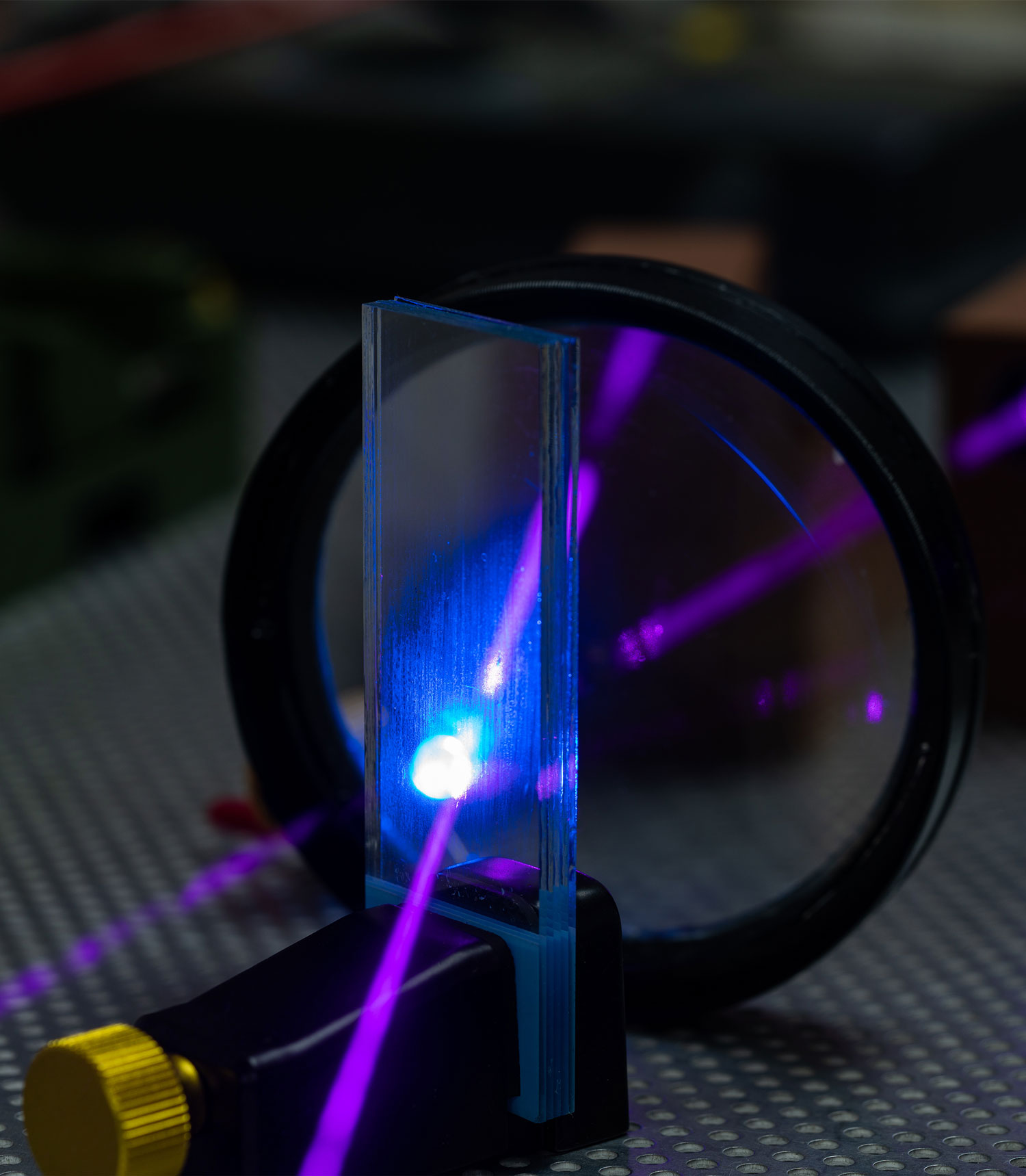 Application Examples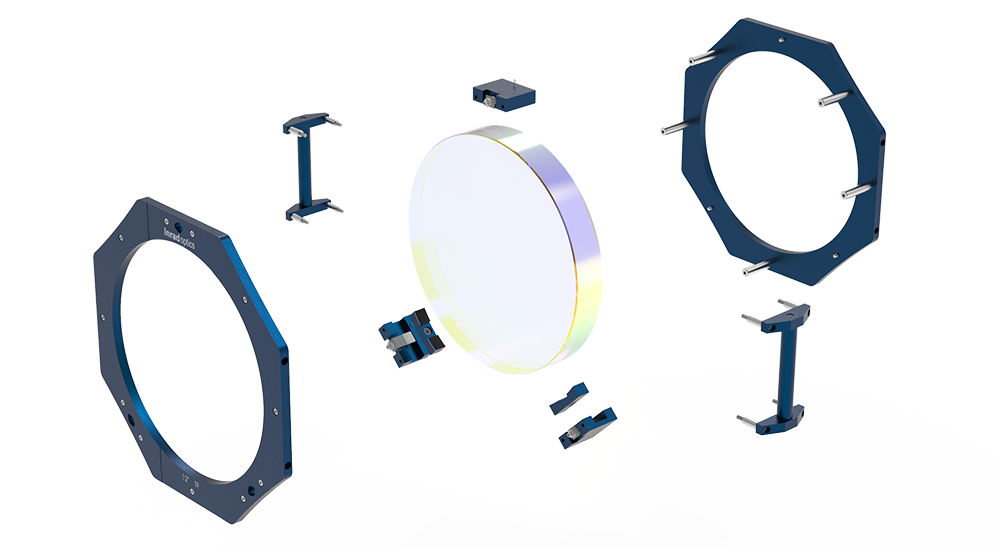 External Flight Window Designed for High Resolution Airborne Imaging
When it comes to optical assembly, a challenge is balancing mechanical specifications with optics, specifications that can often be at odds with each other. For example, a recent case required an external flight window for high resolution airborne imaging.
Optical requirements included flatness, visible and near infrared transmission passbands, coating uniformity and environmental durability. Unfortunately, the assembly also had unexpected mechanical design issues. These issues were identified and fixed as we worked through and tested the design.
When Optical Assemblies Raise Mechanical Questions
As we began the project, we knew it was important to select the best raw materials, surface treatments, geometry and packaging to ensure the tightest alignment and dimensional tolerance to meet the demanding optical wavefront distortion requirements. In addition, we also had to ensure that the product could maintain performance over the full range of extreme temperatures.
Management of the interfaces between materials of dissimilar thermal expansion coefficients and extensive analysis of thermal, optical and mechanical test parameters to mimic field conditions were compiled, and we were faced with several questions. How fast do we heat the assembly? How uniform should the heat reaction be? What should be heated first: the window or the frame?
Problems Arise During Functional Testing
When testing the aerospace window, we anticipated that it would cool or heat uniformly. However, during testing a pronounced thermal gradient was revealed. To compensate for this, insulation was added to the top of the frame to achieve stable results in the second round of attempts. This ensured that the custom assembly would work in its real world application.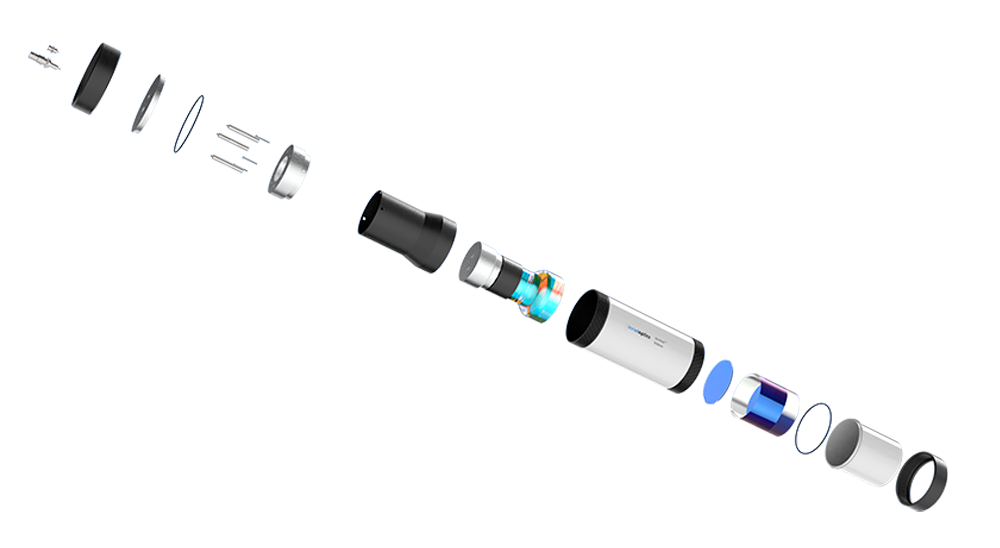 Manufacturing Challenges of Metal Telescope Mirrors
Metal telescope mirrors have stringent quality requirements due to how critical they are to high precision imaging, aerospace and defense applications.
End-to-end Manufacturing
At Inrad Optics, we manage all aspects of the fabrication process, and because of this we can predict the performance of each complex mirror we design. All operations for machining, plating, thermal cycling, polishing and thin film coating of off-axis aspheric mirrors are created entirely in-house, allowing us to control every aspect of production to guarantee the highest quality.
Proven Testing
Our expertise in testing complex, off-axis mirrors is extensive, and we use several proven methods. For more complex or longer focal length aspheric mirrors, we can use a computer generated hologram to measure the surface shape by mimicking a perfect surface within the interferometer image. For less complex shapes and designs we may use a Hindle sphere, null lens or a simple ball test.
Operational Stability
Many metal and telescope mirrors operate in extreme conditions, and the fabrication process must involve stabilizing the mirror to avoid operational distortion. Thermal processes and low stress plating techniques can ensure optimal performance. In addition we have the required equipment to optically inspect at extreme temperatures.