Crystalline stilbene is an organic scintillator used for radiation detection and is well-suited for discrimination between fast neutrons and a gamma-ray background. A fast neutron is one with kinetic energy above approximately 1 MeV. Fast neutron counting, spectroscopy, and imaging have applications in medicine, research, defense, and homeland security.
Inrad Optics produces stilbene using a proprietary low-temperature solution growth technology. This method yields high-quality, low-stress, large form factor material. All stilbene crystal growth, fabrication, and polishing is performed at our Northvale, NJ facility, ensuring complete traceability and satisfaction with every single crystal.
Features
Direct detection of fast neutrons

Stilbene is highly sensitive to fast neutrons, hence they do not need to be moderated to lower energies to be detected
Stilbene takes advantage of the low background of fast neutrons for low-noise measurements
Detection of unmoderated neutrons preserves information about neutron trajectories and energies

Excellent discrimination between neutrons and gamma rays

Facilitates counting fast neutrons without false positives from gamma rays
Permits use of lower energy thresholds than liquid scintillators

Safe and Easy to Handle and Transport

Solid, non-hygroscopic, not flammable, not hazardous
Unpackaged stilbene is stable
Avoids the transportation, storage, and handling concerns of many liquid organic scintillators
Since developing the process of growing high quality stilbene crystals in sizes suitable for commerical use, Inrad Optics has received numerous awards and recognitions from the photonics industry and from the larger scientific community:
2015 CLEO/Laser Focus World Innovation Award in the category of Optical Components
2015 SPIE Prism Award in the category of Materials & Coatings
2015 Popular Science "Best of What's New" Award in the category of Security
2014 Tibbetts Award for excellence in SBIR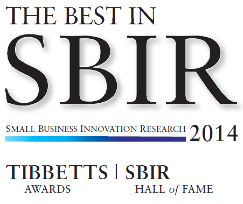 Standard Crystals
Inrad Optics supplies cylindrical stilbene crystals wrapped in PTFE tape and optically polished on one face with a protective fused silica window as standard products.
Crystals are available in diameters of 25.4 mm, 50.8 mm, 76.2 mm, and 101.6 mm.
Crystals can be sealed in aluminum housings with protective fused silica windows and are currently available in the following sizes:
| | | |
| --- | --- | --- |
| Part Number | Cylinder Diameter | Cylinder Height |
| MT1330 | 25.4 mm | 25.4 mm |
| MT1331 | 50.8 mm | 50.8 mm |
Custom Crystals
Inrad Optics can fabricate stilbene in sizes from 5 mm to 130 mm and in geometries including cylinders, cones, cubes, bars, and plates. Stilbene can be finished and housed to customer specifications.
Finishing and housing options:
Wrapped in PTFE tape
Polished face coupled to a protective fused silica optical window
Mounted in an aluminum housing
Crystallographic orientation indicated for anisotropy studies
Integrated in a PMT-coupled detector assembly
Contact This email address is being protected from spambots. You need JavaScript enabled to view it. for more information about stilbene crystal custom configurations.
---
Detector Assembly
Inrad Optics now integrates Scintinel™ stilbene crystals into a magnetic shielded housing with photomultiplier tube and associated electronics. Our neutron detector assemblies are designed for 25mm, 50mm, 75mm, and 125mm diameter crystals.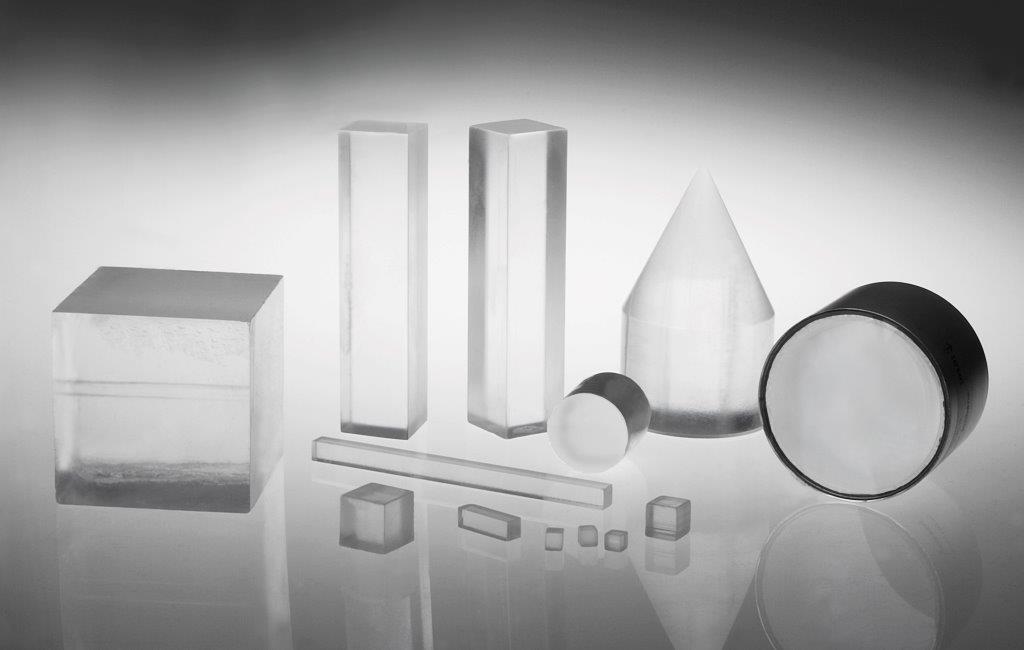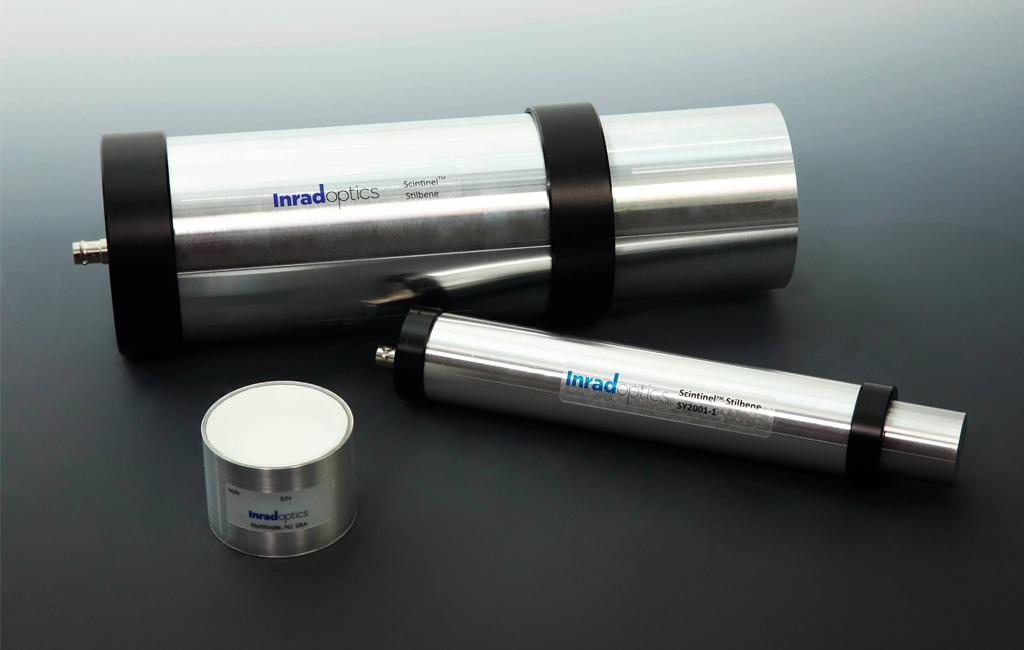 ---
Application Note Handling Instructions Scintinel™ Data Sheet Detector Data Sheet